"Carrie is creative, she is adventurous, she can produce amazing real life animals but turn around and think outside of the box. Her mind is always working on new ideas and different ways to use her artistic talents. "
"Carrie has proven her range of talent and imagination during the thirty years we have enjoyed her creations.  From life-like bronze sculptures, to ceramic horse tack, and later to large, computer-sculpted polyurethane panels, Carrie has brought beauty and imagination to our home."
 As the proud owner of a Carrie Quade sculpture, my heart soars when I look at her work. With Carrie's rare talent of capturing the spirit and magic of her subject, I felt an immediate connection with her beautiful sculpture of a horse by the name of Beau. My husband purchased Beau as a surprise anniversary gift for me, and not a day goes by that I don't look at Beau and say to myself, "Wow, how lucky am I to own one of Carrie's wonderful creations!"
 "what it means to have a carrie quade...
life's images formed within this artist witness an intensity, a clarity, a transcendence in every piece."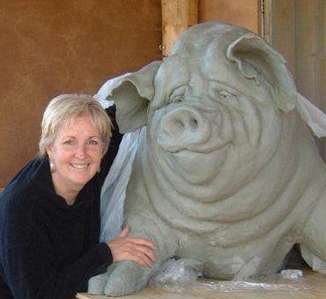 I graduated from the University of Delaware with a degree in Art Education. My life-long interest in animals led me through a variety of jobs in all phases of the horse business, working at zoos with exotic animals and assisting local veterinarians. After the birth of my three daughters, I began to spend time on artistic pursuits and found that I loved working in clay. I combined a knowledge of animals and my talents for producing three-dimensional work in the form of pottery and sculpture. The early ceramic work centered on equestrian themes and slowly began to take on more abstract forms, taking the sculpture to another level.


 
I am always delighted by unusual projects.